Hi, I'm Dr. Nancy Baker, M.D., the founder of Coastal Complete Direct Primary Care
I am a seasoned family practice physician who believes in a whole-person approach to medicine.
I've dedicated my life to helping people become the healthiest versions of themselves by helping them address their physical, emotional and spiritual needs.
To practice good medicine, I needed a place where I could take my time to really get to know my patients and develop meaningful relationships with them. I wanted the ability to meet my patients' needs in a deeper way – to be an advocate for them.
Much of medicine today involves impersonal care dictated by middlemen. I started Coastal Complete Direct Primary Care (DPC) because the DPC model gives the power back to the physician/patient and allows the physician to prioritize quality over quantity.
The best part of my workday is spent connecting with my patients. With more than 20 years of experience practicing medicine, I see patients of all ages with a variety of ailments. I also accommodate in-office dermatologic and gynecologic procedures.
Last but definitely not least, I am a mom, a wife, a sister and a daughter. Family is incredibly important to me. I enjoy being active and running, as well as playing music and singing. My faith is also an important part of my life. I am a "giver" and happiest when I am serving others.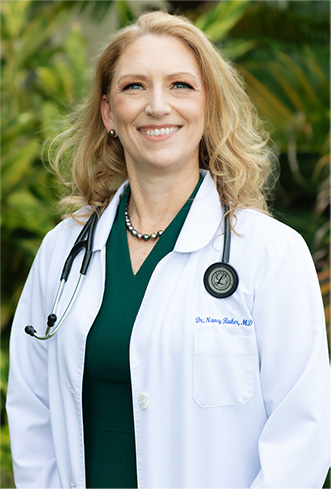 A dramatically improved healthcare experience for all patients by reaffirming the physician-patient relationship and utilizing a whole-person approach to medicine.
Be relentless in our pursuit of healthcare solutions that are immediately actionable, that complement patients' existing lifestyles, and that promote continous improvement of the quality of life.